Unconscious (or Implicit) Bias
"His enthusiasm for the project undoubtedly biased his subjective observations." ~ Source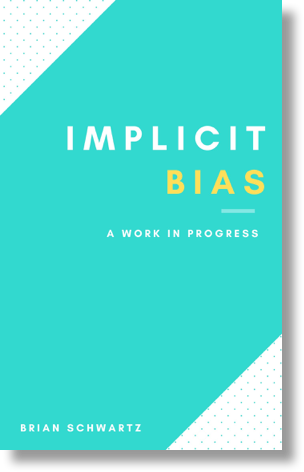 Aka: Snap judgement
Related: Assumptions, opinions
Read or Listen. Comment.
Be mindful of the prejudices that were hard wired into your DNA. They are revealed in the output of your program.
"We do not see things as they are, we see them as we are." ~ Anaïs Nin
Collective Consciousness
Unconscious bias infects an entire community, both good and bad. Where I live, there is a unconscious bias of gratitude. You can sense it everywhere. Those who live here, are truly grateful to live here. Those who visit, are truly grateful for the beauty of the area and the kindness of the majority of us who live here.
Gather and listen together.
Does it enhance our understanding?
Implicitly bias can be quantified. See: https://implicit.harvard.edu
Confirmation Bias & Misbelief
It's a big reason why we're so divided.
Remember 'United we stand, divided we fall'? I personally feel America is falling because we've never been so divided. Confirmation bias explains the phenomenon of what happens when we rely on information to support our belief. The problem with this is that we will always be able to find information to validate our beliefs. Once we do, it strengthens our belief, even when those beliefs are wrong. In a sense, it can be irresponsible to write anything online that you can't validate with hard data. But it happens all the time and given the ease of publishing through social media, it's happening with greater velocity than ever.
My nephew showed me an article he found to validate his claim that that masks are not an effective means to avoid Covid. I'd argue that there is an overwhelming amount of data that proves otherwise and that the majority agrees. Yet he only needed to find one article to strengthen his misbelief.
His dad is a big believer of conspiracy theories and as a result, he's raising a son that not only thinks like him, but knows it to be true (in his mind). I feel this is very dangerous. What happened to teaching our children to have an open mind?
Implicit Bias
I am looking closely at how implicit bias is limiting me and actively looking at strategies to implement a daily 'bias detox.'
From Ohio State:
Implicit biases are pervasive. Everyone possesses them, even people with avowed commitments to impartiality such as judges.
Implicit and explicit biases are related but distinct mental constructs. They are not mutually exclusive and may even reinforce each other.
The implicit associations we hold do not necessarily align with our declared beliefs or even reflect stances we would explicitly endorse.
We generally tend to hold implicit biases that favor our own ingroup, though research has shown that we can still hold implicit biases against our ingroup.
Implicit biases are malleable. Our brains are incredibly complex, and the implicit associations that we have formed can be gradually unlearned through a variety of 'debiasing' techniques.
"Every day, we all experience many of the same things – but we experience them in different ways. Take a trip through a regular day and start thinking about your own advantages and disadvantages"
There's a movement to address inequality due to the hidden implicit bias we possess. The fact we are judging before we are even aware we are judging. This is good, but implicit bias goes both ways.
Black is good. White is bad.
Good is white. Bad is Black.
---
How our tendencies keep us stuck.
"Too many people overvalue what they are not and undervalue what they are." — Malcolm Forbes
Have we become so damn busy that we can no longer zoom out and see the err in our ways?
Consider how your tendencies may actual be your obstacles on the path to realizing your potential.
Below are 3 tendencies many of us possess and how to address them:
The Tendency to Plateau
The Tendency to Overvalue and Undervalue at the Same Time
The Tendency to Underestimate How Hard Things Are
Tendency 1: The Tendency to Plateau
"Most individuals who start as active professionals… change their behavior and increase their performance for a limited time until they reach an acceptable level. Beyond this point, however, further improvements appear to be unpredictable and the number of years of work… is a poor predictor of attained performance." — Anders Ericsson
Most people believe that hard work is the key to success.
They are both right and wrong.
Hard work almost always leads to some type of success. Most people will succeed at some "acceptable level" — but then the growth stops.
Relying solely on hard work will almost always lead to a plateau — a place where you will no longer get any better.
Because so many of us rely solely on hard work to move forward and become successful, we have developed the tendency to plateau. We might have some success — but we are missing out on the true upside of what we can achieve.
As Cal Newport wrote in his book, So Good They Can't Ignore You:
"If you just show up and work hard, you'll soon hit a performance plateau beyond which you will fail to get any better."
What separates the experts from the competent? What separates the superior performers from the above-average ones?
The answer is that the individuals who have reached excellence in a field have overcome this tendency to plateau.
Breaking the Tendency:
How do we break this tendency?
First, make sure you are working hard. But that is not enough.
Anders Ericsson studied this tendency and how to overcome it in the early 1990s.
Ericsson and others after him discovered that the experts in most fields have not relied on special or innate talents. Instead, they have relied on a "lifetime of deliberate practice."
Deliberate practice is defined as an "activity designed, typically by a teacher, for the sole purpose of effectively improving specific aspects of an individual's performance."
In other words, if you want to get better at something, break it down into its component parts. Then focus on each part and how you can get better in that area. Improvements in smaller parts lead to improvements in the whole.
Deliberate practice is the key to overcoming the tendency to plateau.
Tendency 2: The Tendency to Overvalue or Undervalue
"We have a tendency to overvalue ideas from outside of us, and to undervalue ideas from people close to us."
Consider the halo effect on implicit bias. When our president makes a statement on a particular topic, there are millions of people who will believe it, despite any evidence to the contrary.
On the flip side, once someone's halo has been stripped (i.e. Lance Armstrong), anything they say will be immediately discounted as wrong - even if what they say (or do) is right.
Always consider the source.
I'm of the opinion - and again, it's only an opinion which by it's nature is flawed, that the media is the root cause of the current disarray in America. You have two major media hubs: Fox News which caters to conservatives and the networks (NBC, ABC, CBS, and NPR) which cater to liberals. Both sides are guilty for slanting the news they report to the audiences they serve. Why do they do this? Two reasons: 1. The bias of the people in charge of what is reported (including the anchors who report the news) and 2. the advertisers who pay their bills.
In any organization, there is a tendency to overvalue anything — or anyone — outside of the organization.
And the opposite is also true at the same time: the organization will also tend to undervalue anything — or anyone — inside of the organization.
For individuals, the same is true. We have a tendency to overvalue things outside of ourselves, and then we correspondingly undervalue ourselves.
Many people have experienced this in their workplace.
Have you ever had an idea, and the presented it to your boss or supervisor? What happened? Did the supervisor immediately embrace the idea? Or was it dismissed?
Then what happened when someone outside of the company (or in a different department) presented the same idea? Was there any different reaction? For me, my bosses have nearly always appreciated ideas more — the same ideas — when the ideas came from people who were not "under" the boss.
Same idea.
Same concept.
Different source.
Why is that?
Because there is a tendency to overvalue ideas from outside of us, and to undervalue ideas from people close to us.
Until I figured this out, I was extremely frustrated. It is hard to present your ideas to people above you and then have them dismissed without much consideration.
And then it is even harder to hear someone else present your exact same idea — with applause.
Similarly, children can hear the same message from a parent over and over again.
"Don't do that."
"Work harder."
"Take responsibility."
Nothing. As if the parent said nothing at all.
But as soon as a role model says the same thing, there is a completely different response.
The room is clean. The kid is working harder. Grades are going up. Why is that?
It is the tendency. Even kids tend to act this way. And it has taken hold of our entire lives, seemingly without us even knowing. The invisible current stretches from generation to generation without having to intentionally be taught or spread.
Break the Tendency: A leader breaks the tendency by seeing people as what they are, and not as part of any type of hierarchy.
Accept responsibility for seeing reality and responding to it. Don't use your authority or place in a hierarchy to make a judgment. There are people at the "bottom" of an organization that are destined to do great things. Treat them with respect and honor their ideas.
Also, we must realize that often people judge ideas based on the person presenting the idea, even before considering the actual content of the idea.
Seth Godin's Free Prize Inside discusses how to use this to your advantage. A leader can identify potential and skills wherever they are in an organization — whether inside or out.
Tendency 3: The Tendency to Underestimate How Hard Things Are
"Unrealistic beliefs on scope — often hidden and undiscussed — kill high standards. To achieve high standards yourself or as part of a team, you need to form and proactively communicate realistic beliefs about how hard something is going to be." — Jeff Bezos
Most people have another tendency: the tendency to underestimate the amount of effort and work that is needed to succeed.
This is why gyms fill up in January, but are empty in February.
This is why many people have books with cracked spines that are barely touched.
This is why many people start but never finish.
This is why people falter before the finish line.
And this is why completing a task is one of the most useful skills a person can have.
When most people discover how much work is actually is required, then they stop, and don't move forward.
Here's the truth: anything worth doing is going to be hard.
This isn't good or bad. It just is.
And anything that is hard is going to take real work to achieve. Hard work. For a long time.
So the real tendency that can derail us is the tendency to have unrealistic expectations about the amount of work that is going to be required to actually finish.
How long does it take to lose 30 pounds of unwanted weight?
How long does it take to learn to do a handstand?
How long will it take me to get in shape?
How long does it take to learn a language?
How much work does it take to build a company?
How much work does it take to go to graduate school?
How much work does it take to write a book?
Unrealistic expectations about how hard a task is actually going to be massively decreases the chances that we will achieve the task.
We must resist the tendency of having unrealistic expectations.
Anything worth doing is hard. But doing hard things makes life so much better.
Breaking the Tendency:
Develop realistic expectations about how hard something is going to be. The key is to recognize how hard a task or project will be so that you do not quit before completion. Don't be afraid to still aim high — just don't quit too soon. Sometimes hard means long. Be prepared for battle.
Consistency is a real solution. The person who moves a mountain begins by carrying away small stones.
Set up a structure that will allow you to be consistent over a long period of time. Your surrounding environment — who, what, and where — will determine how far you will go.
Forever Vigilant
"One of the most tragic things I know about human nature is that all of us tend to put off living. We are all dreaming of some magical rose garden over the horizon — instead of enjoying the roses that are blooming outside our windows today." — Dale Carnegie
Can you walk across a moving current?
Yes, of course. But first, you have to step out of the current.
You can break the tendencies.
First, recognize each tendency. Then break them.
Break the tendency to plateau: Use deliberate practice to break down projects and task into component parts.
Break the tendency to overvalue and undervalue: Become a leader who can see people as people — not as someone who is inside or outside. Recognize skills and potential.
Break the tendency to underestimate how hard things are: Develop realistic expectations so that you do not quit too early. Ultimately, leaders — good leaders — break the tendencies and overcome the pull to veer off course.
And finally, be forever vigilant. You can easily be pulled back in.
The current never goes away.
12 Cognitive Biases
Anchoring Bias
Availability Heuristic bias
Bandwagon Bias
Choice Supportive Bias
Confirmation Bias
Ostrich Bias
Outcome Bias
Overconfidence
Placebo bias
Survivorship Bias
Selective Perception Bias
Blind Spot Bias
Further Reading