Deadlines
Do deadlines drive you or defeat you?
You are an investor in my future. Your deadlines matter.
What are the deadlines that are driving you?
30 Boxes
Scenario:
On 11/2, I promised a client I would complete a task in 2 weeks. But I failed to add the deadline to my daily calendar. Today is 11/10 and it's time to begin.
CODE IT! ADD HTML to display % remaining - a calculation of duration from start to finish.
Deadlines can be assigned to outcomes written in the form of a punchlist, which often contains a checklist: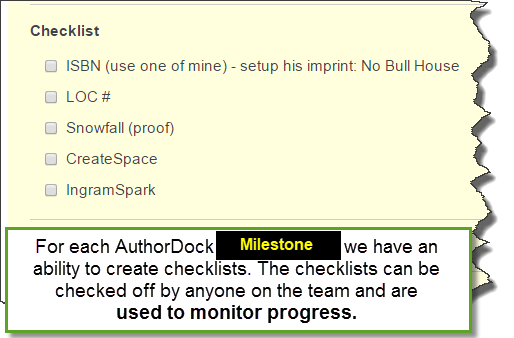 For each AuthorDock punchlist item, we have an ability to create checklists. The checklists can be checked off by anyone on the team and are used to monitor progress.
Priorities:
A 'Must' item must have a corresponding invoice. The 'Could' items are the lowest priority. It's helpful to keep these for reference when the question arrives 'what can I work on next?'
'Should' indicates a recommended actions, but lacks an actual invoice + work order.
Deadlines are what drive of a sequence of schedule actions.
We can control our effort, but not the outcome.
Be careful not to be come attached to that which you cannot control. Outcomes can be aimed for, but ultimately are outside your control.
Marketing is an effort, sales the outcome. While we can monitor and control our effort, we cannot control the outcome.
The core of AuthorDock is the punchlist - a set of actions, assigned in time to a resource, validated by a commitment.
Is it actionable? * Deadline driven? * Defined incremental steps? * Workflow (formal or informal) * Event driven?