TechBrew
Updated 6/3/20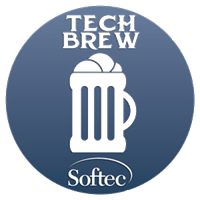 In May of 2018, I took on the role as 'Brewmaster' for the monthly TechBrew events hosted by Softec in San Luis Obispo. Since taking over, we've seen attendance grow to 50+ attendees per meeting and added many new sponsors.
I've taken the opportunity to incorporate some of the concepts from the 50 Interviews Forum.
What is TechBrew?
My goal to bring you interesting speakers and engaging topics related to technology you won't hear anywhere else. Many of the speakers are the kind of folks you might see on a Ted stage someday.
It's also the longest running networking meetup for technology enthusiasts on the central coast. We exist to foster what we refer to as 'TechBrew Moments.' The best example of a TechBrew Moment I can share is that how the founder of MindBody met his co-founder at a TechBrew. MindBody went on to become a billion dollar company! Incidentally, they became one of our largest sponsors.
Please note: For 2020, when the Covid restrictions are finally lifted, we'll be back to our New location at Leroy's in The Kinney Hotel.

TechBrew Calendar
Signup to be notified of future meetings.
2020 Speakers
Speakers are always subject to change!!! While our meetings are always the 2nd Monday of each month, which speaker will speak on which month is fluid until the email blast goes out.
| Speaker | Topic | Date |
| --- | --- | --- |
| TBD | TBD | August 10 |
| Teana Fredeen | Cyber Security | July 13 |
| George Stone | Audio/Recording Technology | TBD |
| Matt West | CodeSLO | Sept. 14 |
| Amaya Becvar Weddle | MindBody | TBD |
Past Speakers 🍺
Caloric Contributors - Sponsors (2020)
Mar-2020
Kevin Hartstein
Kenny O'Reilly @ BetterLeverage.com
Mike Thomas @ Digital West
Chaz Groves Precision Waste Conversion
Feb-2020
Erin Stratton @ skywardink.com
John Osumi
Glenn Shackelford @ Spectrum Enterprise
Dean Mitchell @ streamguys.com
Sponsors (2019)
Rodney Babcock @ NextIntent
Chaz Groves Nordic American Ventures
Andrew Federico
Mike Thomas @ Digital West
Joe Bowman @ ITW (Slime)
David Kastner @ The Clark Center
Rick May @ MeTou
Jessica Lorenzo @ Grand Canyon Education
Chico Lusby @ Coast Hills Credit Union
Cliff Stepp @ Stepp Up Consulting
Carl Dudley @ Pacific Western Bank
Super shout out to our Gold Sponsors ($500) this quarter:
Eric Schwefler @ Caliber Accounting Group
Extra special gratitude to our Silver sponsors ($100) this quarter
Rodney Babcock @ Next Intent
Tavin Boynton @ Bolt About Coworking
Leslie Coe @ Comevo
Past Meetings
---
Other TechBrews (out of the area)
TECH NORTH IOWA
https://www.eventbrite.com/e/techbrew-north-iowa-july-tickets-47520941415
Tech North Iowa is a community-run organization in North-Iowa. Our mission is to bring out the entrepreneur within all of us and foster collaboration to spread our passion for technology and entrepreneurship to the local community. TechBrew connects people with each other and technology.
Engage - Connect people with people and technology for collaboration.
Empower - Provide guidance and opportunities for people wanting to create their own startups.
Envision - Help people through consulting and speaking events.
Similar organizations to Softec (our parent org)