eMail Clients
Without a good email client, it's too easy to miss important messages and you spend too much time looking for email.
What are the best email clients for the Mac?
I have been using Unibox for several years. I just recently started using Airmail because it supports [markdown] formatting which I use all the time because of AuthorDock and PubWriter.
PC recommendations?
Which are the best email clients for the PC? I wish I knew! I am not a fan of outlook, but I use it because I don't know of any good alternatives. I tried Mailbird, but my virus scanner said it contained a trojan horse: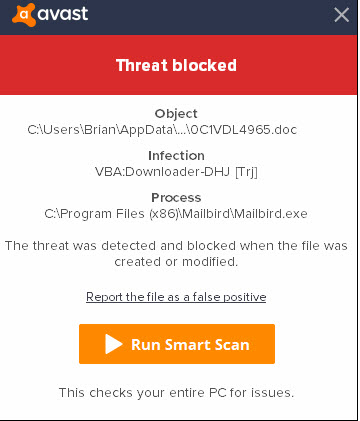 What I really want is an email with a hacker theme.
eMail open confirmations
I am noticing that more people are using these tools and that more email programs are providing the option to track opens. In fact, most marketers are using open trackers to measure the effectiveness of a marketing campaign. Some free options for gmail are Streak and Gmelius. Gmelius lets you know when someone else is using a open tracker (and blocks it). MailTrack.io is another option.
It's begs the question: Is every email worth opening? How many hours have we lost in reading
eMail Senders (Bulk mailings)
Need to SEND email to a large list? Here are a few of the options I am exploring:
When our delivery/open rate improved was when we started sending out individual emails ~ You can do an email merge in MS Word to about 25 people at a time (no more than 25 people per hour). I also use the Google Sheets Mail Merge Add-on - the benefit being you could setup a separate gmail account just for this purpose.
Grabbing eyeballs
There is an art to writing emails that get opened. Here are a few icons that translate well in email subject lines:
🏁 📚 ❤️ ☀️ ☺
I'd suggest keeping a notebook of email subject lines that spark a click.